We built a new AV Case to help with make running events such as TRI easier. We have attached some photos below and also listed out what's all inside it.
The advantage of this box is much of the system is able to stay wired together between events. The microphones are already connected to the mixer. The PC is setup and ready to connect to the network cameras we use and start the streaming. This should dramatically reduce our setup time at events.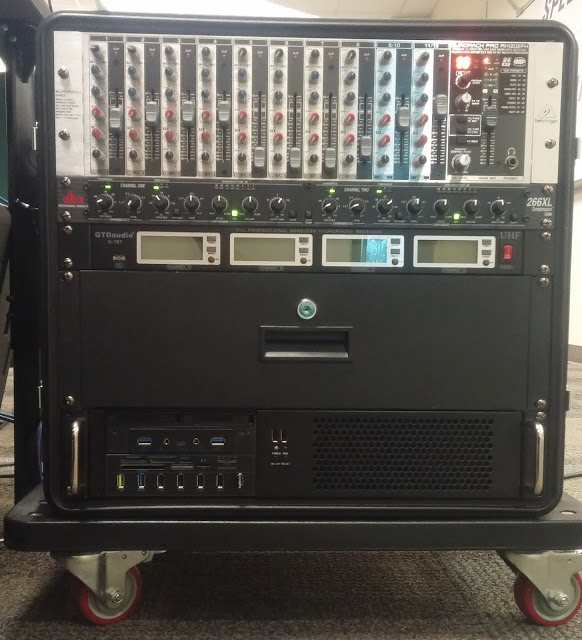 Front of the case (Starting from the top)
Inexpensive case for all this gear.
If we did it again, we might by the 12U version instead of the 10U
Allows us to input microphones, music, game sounds, etc and control all the volumes
Doesn't have push button mutes, but it's FX outputs let us easily send the MC and announcer audio to the stream without sending music.
dbx266XL Compressor
Not required but can be useful for adjust microphone audio, etc.
We purchased ours off craigslist, used.
2 handheld, and 2 body microphones
Very good range and quality for the price
We noticed some feedback issues but that happens with more expensive units as well.
These are great upgrades over any cheap system. Battery meters, auto channel selection, and other features make these much nicer to use.
3U drawer for holding microphones, a laptop for music playing, etc
A custom built PC to stream the event with
16GB 2 x 8GB DDR4-2400 PC4-19200
CX Series 850 Watt ATX Modular Power Supply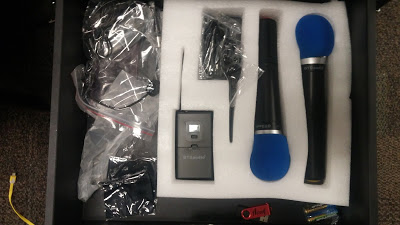 The Drawer
Currently holds the microphones
We also can put a laptop on top of them
The Back of the Case (Starting from the top)
Used to connect network cameras to the computer
cameras powered using the POE ports
provides DHCP and NAT for the box, this lets us use a single internet connection and distribute to laptops, and other PCs
Also keeps the network cameras at the same IP address every time we connect them.
Cameras
Work very well for our purposes and far cheaper than a pro quality SDI camera.
Additional stuff
Lots of cables from Amazon and Monoprice
Future Additions
UPS power supply
HDMI 1×8 splitter
4 port output graphics card
– Spectrum
"My three Ps: passion, patience, perseverance. You have to do this if you've got to be a filmmaker." – Robert Wise