St. Agnes Academy Engineering Team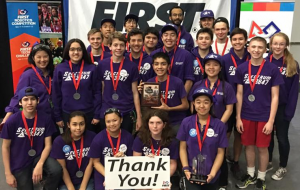 Spectrum is the engineering and robotics team for St. Agnes Academy and Strake Jesuit College Prep.
Interest Meetings
We will be holding two interest meeting for perspective students.
Monday Aug 28th - Fleming Room A - 3:00pm - 4:00pm
Wednesday Sep 20th - Fleming Room A - 3:00pm - 4:00pm
Come visit the engineering lab
Feel free to come to our lab after school any day. We meet in Rooms 3103 and 3105 in the Strake Agee Hall STEM Building.
Team Activities
Robots, Programming, Graphic Design, Website Design, 3D Printing, Writing, Video Production, Community Service, Power Tools, Travel,  Social Media
Learn to solve problems using technology, compete in an international competition against teams from around the world.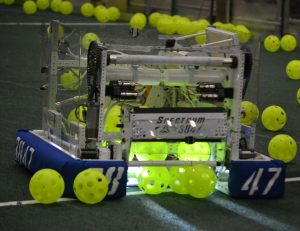 FAQ
Do you have to be chosen or apply to be on the team?
No, everyone is welcome on the team.
Can you be on the engineering team and other teams/activities?
We are a year round team, and our flexible meeting times allow you to participate in engineering while doing other activities such as sports/choir/band/theater/etc.
Do you need to already know how to build robots, program or use tools?
No experience is required, just be curious. We can teach you all you need to know. Plus there are lots of functions on the team that don't involve the robot.
When/where does Spectrum meet?
We meet nearly every day after school in the engineering lab in the Strake STEM building. Our lab is equipped with machine tools like drill presses, a mill, and a lathe as well as 3D printers, and a CNC router. We also have space for electronics, robot assembly and A/V equipment. You can meet up with other members at the Auditorium Foyer after school and walk over together if you're not sure where the lab is. Feel free to come any day that you want, after you sign up you'll get emails about specific things that will happen on different days.
Do you have to be good at math or science to join? 
No you don't. If you are that's great we can use those skills, but the team does a lot more than that.
My Commitment?
This is entirely your choice. We'd love to see you when you're available. What you put in determines what you get out, so for students we recommend at least bi- or tri-weekly in the fall (summer entirely optional) and approximately 10-12 hours/week average during the spring (2-3 weeknights and 1 weekend). This can be lower or concentrated in just a few weeks if you're interested in limited, specific field: disciplines like scouting, spirit, and media have concentrated periods of higher activity. All our student leaders commit 15-20hrs/week (and we love it!). You can also help the team by working from home on a variety of projects as well such as graphic design, video production, proof reading/editing, media creation, social media, etc.
What is an engineer?
An engineer is a problem solver! Engineers are changing the world all of the time. They dream up creative, practical solutions and work with other smart, inspiring people to invent, design, and create things that matter.
Map