Today was our first design review. We have seen the 72 hour builds, prototyped a little, and played a human version of Aerial Assist. We think we have a good understanding of the game. Here is how we break it down.
Need:
Drive

Speed

Roll ball out of robot on ground or into low goal

Sturdy/Rugged

Catch from inbounder / Collect from Human Player / Receive Inbound

Hold the ball – securely enough to drive around
Want
Pushing Power / Torque

Agility

Bouncing Ball Control (rebound)

Catch well from other robots

Shoot a Pass/Lob Shot

Variable Power Shooter

Ground pickup

Lob to Human Player

High Goal Score
Wish
Strafe

Shoot across a zone (lob from back over truss)

Shoot from zone line (18′ shot)

Shoot from the wall

2 ball auton

Eject ball on power off
Why bother?
Brake (mechanical)

>5′ extension…

Jump

Turret

Scissor lift…

Ground pickup from sides

3 ball auton…
There might be more aspects to the game but these are all the ones we covered. We'll be dealing with the programming side of things a bit later.
Today's update is a picture of the current state of our CAD Model. It's still rough, but the drive train is coming along very nicely. We are working on the electronics layout, as well as fitting everything else into the robot. (All the CIMs are just place holders, there will only be 6 on the real robot.)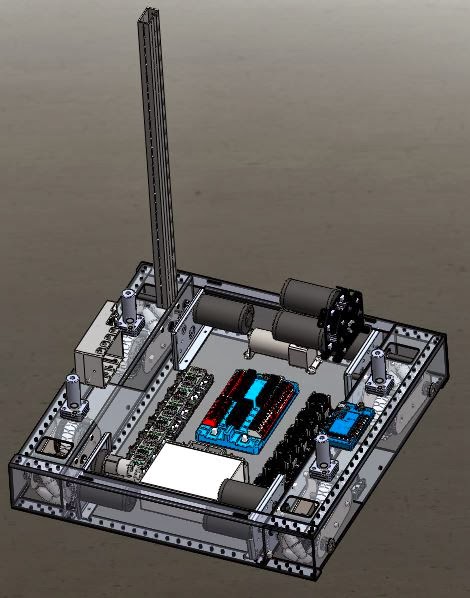 – Spectrum
"Start by doing what's necessary, then what's possible, and suddenly you are doing the impossible." – St. Francis of Assisi